Keizer Heating
Services for Keizer Heating
Enhancing Your Comfort and Energy Savings
Keizer home owners constantly adjusting the thermostat, frequent repair and abnormally high energy bills are signs that you may need a new heating system  (furnace or heat pump). Products with Energy Star® certification are at least 15% more efficient than standard equipment and can save on Keizer heating hundreds of dollars annually. One of our qualified installers will help you find the best unit for your home and budget. At Melton's Heating & Air Conditioning, we install quality residential Keizer heating systems that deliver problem-free service for years to come.
Range of Energy-Efficient Heating Systems to Meet Your Needs in Keizer
Furnaces: Is your gas furnace or electric furnace more than 15 years? Replacing it with an energy-efficient heating model can reduce your heating costs by up to 40%.  Built with the latest technology, Energy Star® certified products offer year-upon-year savings and cleaner indoor air. We have a large inventory of gas furnaces from reliable manufacturers for you to choose from. Count on us to find the perfect fit for your home.
Heat pumps:   Ideal for the Oregon weather, heating Keizer homes with a heat pump can save you space and money. The two-in-one system heats and cools your home, eliminating the need for installing and maintaining separate units. From air-source heat pumps to ground-source, absorption, reverse chiller and all climate models—our extensive product offering makes it easy to match your requirements. Heating with ductless mini-splits are ideal for new home additions, basements and areas that are too hot or too cold. Since they require no duct work, in most cases we can complete installation in a day and join the many Keizer Heating customers that increase savings .
Converting to a gas furnace: Switching from an oil or wall furnace to a gas one brings instant energy savings and continual returns. We can show you how to take advantage of your Keizer utility company's periodic special incentives to lower your conversion expenses. As a NW Natural certified contractor, we have helped hundreds of homeowners in and around Keizer easily convert from an oil furnace or wall heat to natural gas heating.
Expert Installation, Repair and Maintenance from a Dependable Heating Contractor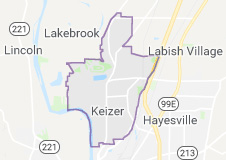 For over 50 years, the team at Melton's Heating & Air Conditioning has provided skilled installation, maintenance and repair in Keizer, Oregon's and Willamette Valley area. Our Keizer customers enjoy first-class products and exceptional service. We offer customized advice and recommend the right system based on your usage patterns, the number of people in your Keizer home, ceiling height, number of windows, building materials, etc.
Whether it is a new home or remodel, we are always ready to answer any questions and help you select the right Heating System solution for your Kaiser home. Count on us to look out for your comfort and your wallet.
Call one of our friendly and knowledgeable staff members at Melton's Heating & Air Conditioning today at 503-378-7482 to discover how Keizer Heating homes  with a new energy-efficient furnace or heat pump can improve your home's comfort and lower your energy bills. You can also fill out our online form, and we will get back to you soon.