Air Conditioning
Salem's #1 Air Conditioner Service Professionals
Does your air conditioner suddenly turn on or off?
Do you need a new unit installed in your home or office?
When summer starts and the hot sun beats down, you'll need your air conditioner… That's where we come in. Since 1983, Melton's Heating and Air Conditioning has provided the absolute best air conditioner service in the Mid-Valley area. Whether you need a diagnostic or a preventative maintenance plan for industrial units, our expert technicians will be with you every step of the way. Let us bring comfort and coolness to your home or business. Contact us today at (503) 378-7482.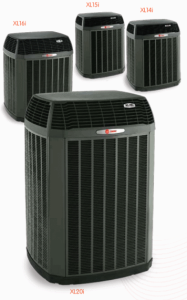 Air Conditioning Services Include:
clean condenser coil if necessary
check electrical connections for tightness
adjust system for optimum cooling
check for oil and refrigerant leaks
check safety devices
check coil temps for correct expansion valve operation
check refrigerant level
clean condensate drain
replace fuses
These services are provided for our preferred maintenance customers.
We provide complete design, installation, repair and maintenance for all of your residential and commercial air conditioning needs.